Description
Optimized for all sensors
The surface of the Knout RGB mouse pad (320 x 270mm) offers you the scope for a fast and wide glide both in optical and laser mice, thanks to its thermally treated surface that lends it both softness and an outstanding feel.
Its thickness of just 3mm provides the necessary cushioning without creating a gap between the keyboard and the mouse, making it your ideal accomplice. All this is possible thanks to its ultra adherent base, which attaches itself perfectly to your table, remaining motionless even during the most sudden of movements.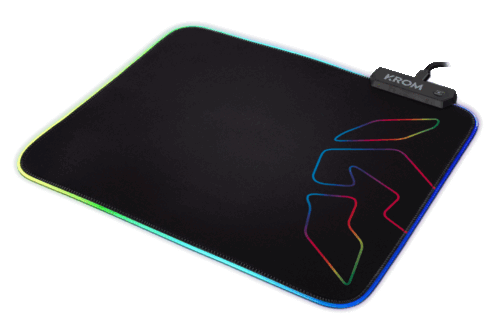 Illuminate your victories
Take your gaming experience to another level thanks to the 16.8 million colors projected from the edges of the Knout RGB, and enjoy an authentic visual spectacle of effects and colors while you are immersed in the adrenaline of the game.
Choose between 6 fixed colors and 3 modes (Breathing, Sparking and Spectrum) with just one click.
Knout RGB has a removable USB cable 2 meters long that ensures greater durability and resistance to friction.
In addition, so you can enjoy the longest your gaming mat, its sides are reinforced to prevent any deterioration from wear and tear.