Description
Boost the quality of your audio
This is a professional microphone with two high-quality condenser capsules, making it perfect for recording, speaking or singing. Krom Kapsule is also a streaming microphone, which guarantees that your community will always hear you loud and clear in every game, as well as conveying orders to your squad without interference.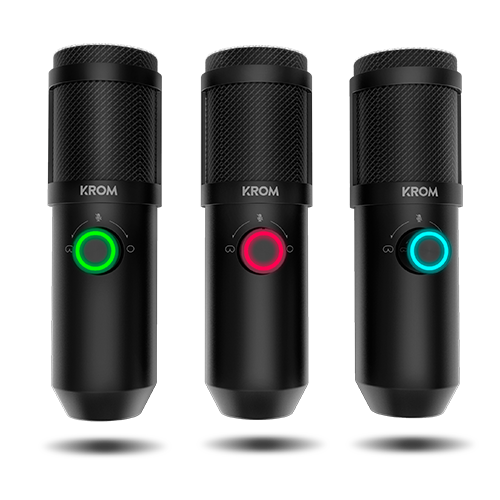 With this microphone you will be able to record a professional sound, both omnidirectional and unidirectional, since you can choose between its different recording patterns from its front panel, adapting immediately to the type of capture you require at all times thanks to its simple usability.
The cardioid pattern ensures clear audio reception by canceling noise, minimizing background sound. This recording pattern makes the Krom Kapsule a good microphone to record acoustic sessions too.
Crisp and clear sound: high precision
Krom Kapsule allows for sharp audio recording, rich in nuances. With excellent sensitivity, it captures sound very effectively. Its pop filter maintains clean acoustics, without echo or annoying background noise. This filter also dampens the blasts of air we expel when we speak.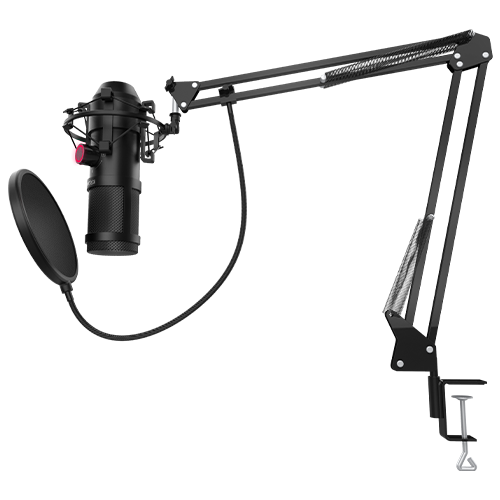 Comfort and maximum performance
This professional recording microphone has a positionable mechanical support, making it versatile and easy to handle at all times.
Visually very attractive, with black finishes, the Krom Kapsule is a modern microphone that fits into any setup. Made of metal, with an anti-shock mount, it is extremely stable and adapts easily to different positions, offering professional aesthetics and performance.
Connects easily via USB and works instantly with any computer or laptop. The Krom Kapsule is a microphone that also features a 3.5mm headphone jack.
HQ Streaming Microphone Kit
Specifications
---
Features:
Professional microphone with 2 capsule condenser
Recording pattern selector: unidirectional, cardiodid or omnidirectional
Perfect for streaming, podcasts, VoIP, gaming...
3.5 mm audio hub
Metal arm
Anti-shock mount and pop filter
Microphone Specifications: 
Directivity: Cardiodid & omnidirectional
Bit rate: 24 bit
Frequency response: 20 Hz - 20 KHz
Sensitivity: 4.5 mV/Pa (1K Hz)
Sample rate: 96 KHz
Type: 2x condenser capsule
Technical Specifications:
Rating voltage: DC 5V
Rating current: 150 mA
Cable length: 2 m
Connection: USB
Dimensions: 45 x 45 x 150 mm
Weight: 200 g
Package content:
Micro USB to USB cable (200 cm)
Cable micro USB a USB (200 cm)
Metal arm
Pop filter
Anti-shock mount
Quickguide